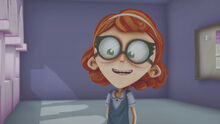 Tracy, from Bullicus Smarticus on, is the main antagonist Angelo Rules. She is Mr. Foot's niece, who believes that Angelo is always up to something when he does something weird. Angelo always works through the problems she causes for him, and most of the time, she ends up getting into trouble.She is a nerd.
Personality
Tracy is a smart girl who uses her mind power for busting Angelo's plans and have her way all the time. She lacks friends, because she is considered a bully. However, there are some characters she has a positive affiliation with,like her uncle Mr Foot. She also displays signs throughout the series depicting she has a 'crush' on Angelo, and her evilness is her way of expressing it.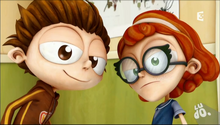 Ad blocker interference detected!
Wikia is a free-to-use site that makes money from advertising. We have a modified experience for viewers using ad blockers

Wikia is not accessible if you've made further modifications. Remove the custom ad blocker rule(s) and the page will load as expected.